Assisting You In Achieving A Higher Quality Of Life
With over 35 years of experience in the installation of vehicle adaptations, they are one of the leading companies in their field. With their extensive experience in the industry and first-class knowledge of vehicle adaptations and mobility products, we are confident that our clients will get exceptional service every time. 
Call Now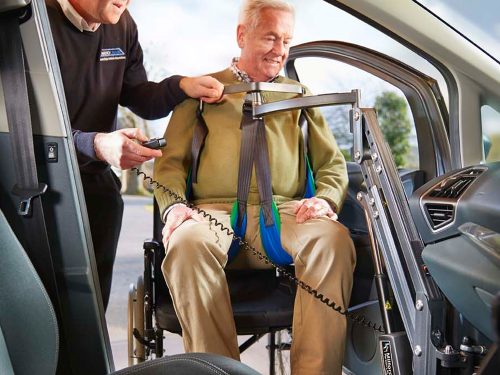 Mobility Scooter and Wheelchair Hoists
These hoists enable you to lift a scooter or wheelchair into your vehicle with minimum effort and maximum safety. There are options suitable for most vehicles and mobility scooter/wheelchair combinations.
Person Hoists
Ideal if you have limited movement, a person hoist will enable the safe transfer from your wheelchair into your vehicle.
Seats
There are many different options available to assist you when transferring from seat to vehicle. These range from rotating seats that turn 90 degrees, to fully programmable seats that turn out and lower to a convenient height.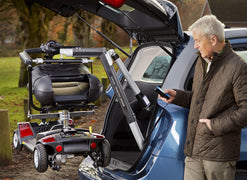 Transfer Plates
These are used to transfer you from your wheelchair into your vehicle. There are both manual and electronic systems available to suit all users.
Driver Environment
These include a range of adaptations to assist your driving environment including Hand Controls (Brake/Accelerator), Secondary Hand Controls (Wipers, Horn, Lights, etc.), Steering Aids, Pedal Extensions, Left Foot Accelerators, Handbrake Aids, Clutch Aids and more
Wheelchair and Occupant Restraints
For your safety, we offer a full range of both wheelchair and occupant restraints, compatible with all systems.
Roof Top Boxes
Ideal for storing a folding manual wheelchair whilst travelling. They are operated from the driver's seat and are easy and safe to use.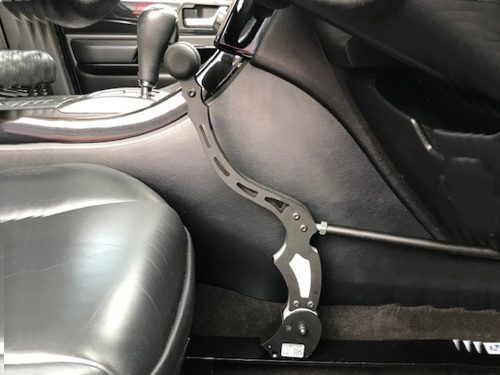 Ramps and Winches
Winches are designed to pull a wheelchair up a ramp. Suitable for all manual wheelchairs. They can be fitted to most vehicles and a choice of wheelchair attachments are available. We have a full range of ramps available including manual, electric, folding, fixed and portable.
Various Aids
A full range of products to aid the driving experience including Shield Panels, Grab Handles, Remote Controls, Head Rests, Straps, etc.
The BAS Push/Pull Brake/Accelerator
A brand new design concept where customer safety is never compromised. If you are unable to use the foot pedals in your vehicle, then a Seat-Mounted Push/Pull Brake/Accelerator is the ideal adaptation for you. The seat-mounted option allows for full height adjustment of the steering wheel and no interference with the driver's airbag. Simply pull to accelerate and push to brake.
Frequently Asked Questions
Request A Callback
To arrange a repair or service, please call us on 01925 240064 or complete the form below to arrange a callback.